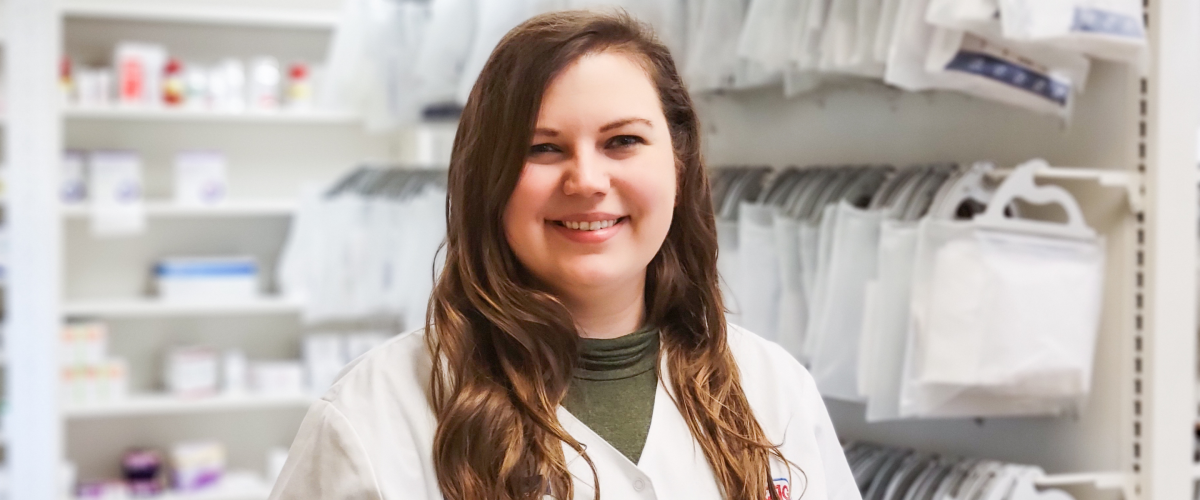 DUBUQUE, Iowa – Sarah Vandermillen, PharmD, is the newest Pharmacist at Hartig Drug in Galena, Illinois. You have probably seen her smiling face for some time now. Sarah also floats to other Hartig Drug locations about one day per week.
Sarah is originally from East Dubuque, Illinois, and attended undergraduate school at Loras College in Dubuque, Iowa. She graduated from the University of Illinois Chicago College of Pharmacy in 2021 in Rockford, Illinois.
Sarah has worked for Hartig Drug since 2014, previously working as a pharmacy technician. It was an excellent way to gain experience and truly help her see her future.
"I have always been very interested in science and the healthcare field. My oldest brother is also a pharmacist, and I was very inspired by his dedication and passion for his job. That triggered my interest in pharmacy. After starting to work as a technician for Hartig Drug in 2014, I fell in love with the work and the role I was able to play in my patient's healthcare and the contribution I was making in my community."
Sarah's years of involvement working for Hartig Drug made the transition from tech to pharmacist smooth. Sarah began her pharmacist role at Hartig Drug following her 2021 graduation, and she floated to multiple locations throughout the company before getting her home store in Galena.
Sarah has already stepped up for the Galena community in the time she has been working there. She was instrumental in the extra Covid-19 Moderna Booster clinics last winter, which were staffed by Khris Moser, Pharmacist in Charge at Galena Hartig Drug, and Sarah during non-scheduled hours.
When not helping the patients of the Galena Hartig Drug, Sarah enjoys spending time with her nephew and two nieces. She said they are by far the funniest and cutest people she has ever met. She also loves to read during her free time.
"I am so excited to be able to work in the position of being a pharmacist and using all of the knowledge and hard work from my education to be an advocate and resource for my patients."
Welcome, Sarah! Your loyalty and dedication to patients shows through each day.