In 1904, at the age of 22, A.J. Hartig opened his first drugstore in his native Dubuque on the corner of 1st and Locust streets.  Hartig Drug continued growing through the early twentieth century by expanding the product line and winning over the Dubuque community.
Hartig Drug was an innovative company from the beginning, introducing such breakthroughs as the conversion from all over-the-counter shopping to "self-service," with non-prescription items moved onto shelves throughout the store.  Today, Hartig Drug represents the state-of-the-art in filling prescriptions over the internet and through our popular full-service digital-photo department.
At Hartig Drug, we are proud of our rich history and the affiliation we have with each of the communities in which we operate.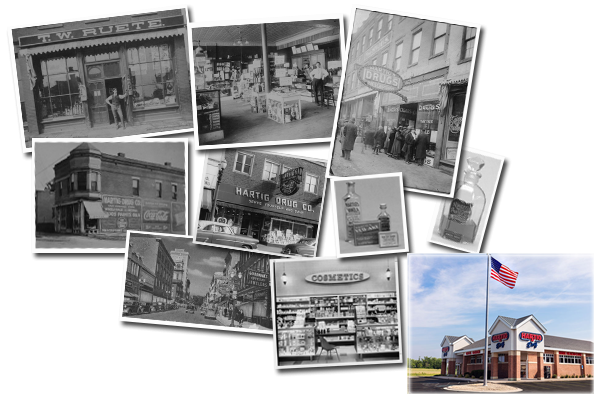 Timeline
February 23, 1934

New Acquisition

In the midst of the great depression Hartig Drug acquires the former Dan J Haas Drug store located at 25th and Central in Dubuque, Iowa.

June 1, 1970

JFK Location

An 11,000 square-foot west Dubuque location opens in the Asbury Square Shopping Center on John F Kennedy Road.

May 20, 1973

Dick Hartig Joins Family Business

Dick Hartig was about to graduate from pharmacy school when his father Ken suddenly passed away at the age of 54.  With the death of his father, he struggled with a difficult decision to follow his dreams or return home to work in the family business.  His sense of family and history led him to Dubuque to join his mother Helen and brother Ken Jr. in running the family business.

April 7, 1975

Galena Location Opens

In April of 1975, Hartig Drug Stores opened a store in historic Galena Illinois amid its unique environment of yesteryear.  Less than five years later, in December of 1979, the Galena location was moved across the street to 213 North Main.

June 14, 1977

Hartig Purchases Holscher's Apothecary

In 1977, Hartig Drug Company purchased Holscher's Apothecary, with stores located at 11th & Main and at 1298 Dodge Street.  In 1980, both of these operations were combined to form Hartig Homecare, a pharmacy and home health store, which was located at John F. Kennedy Road and Pennsylvania Avenue on Dubuque's west side.  In January of 1992, Hartig Homecare had outgrown its space and was split into two divisions- Hartig Homecare and Hartig Nursing Home Services.

November 18, 1985

Dyersville Location Opens

In November of 1985, Hartig opened a 10,000-square-foot store in Dyersville Iowa.

April 1, 1989

Locust Street Relocation

The Locust Street Hartig Drug location relocates to the corner of 2nd and Locust Streets in Dubuque Iowa.  The store currently remains at this location today.

May 2, 1992

Delhi Street Location Opens

July 27, 1997

Iowa City Location Opens

Hartig Drug expands into the Iowa City, Iowa market.

November 1, 1999

Finley-Hartig Homecare

Hartig Homecare enters joint venture with Finley Hospital creating Finley-Hartig Homecare.

March 27, 2007

Delhi Street Relocation

In March of 2007, Hartig Drug relocated its Delhi Street location to a new state of the art building at the corner of University and Grandview Avenues in Dubuque, Iowa.  In addition to offering a wide variety of product offerings, this location offers customers a convenient postal annex, an American Trust banking branch and a full service Cafe (AJ's Cafe) named after our founder, AJ Hartig.

November 29, 2010

Darlington Location

Whitford Pharmacy in Darlington, Wisconsin was acquired by Hartig Drug.  The merging of these two family owned businesses will allow the families in Lafayette County to continue to receive the best patient care possible.

January 1, 2015

Phillips Pharmacy Acquisition

Hartig Drug Company acquires three Phillips Pharmacies located in Belle Plaine, Williamsburg and Monticello, Iowa.