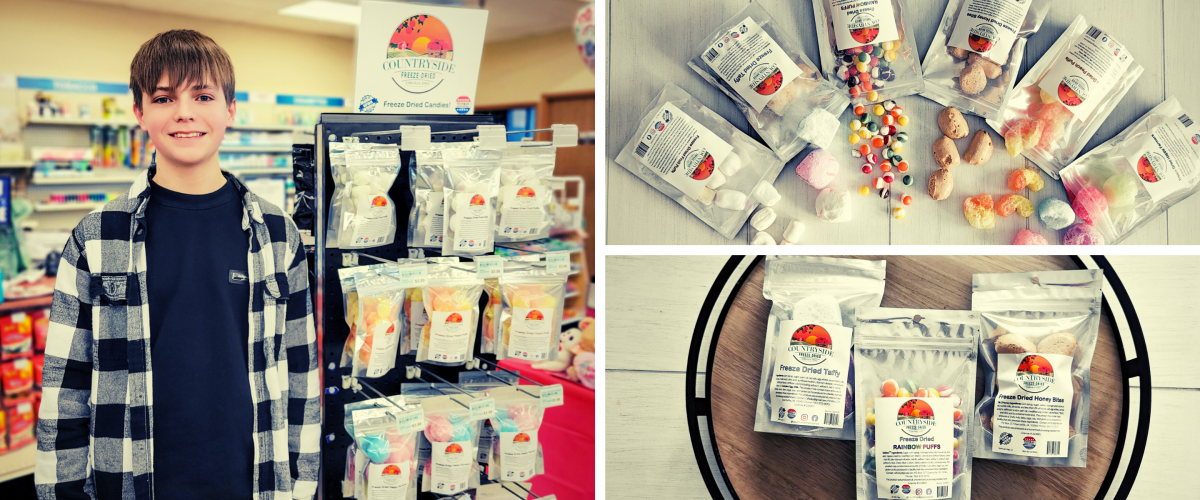 Thursday, February 23, 2023
Hartig Drug is proud to support local young entrepreneurs and other local businesses in the community through partnerships as vendors. One such success story is Countryside Freeze-Dried, a local freeze-dried business based in Earlville, Iowa. Young entrepreneur Jonathan McGovern, a 14-year-old freshman in high school, founded the freeze-dried candy at 13.
McGovern's entrepreneurial spirit was sparked at just six years old, and by 13, he was ready to launch his own business venture. His parents, Terry and Jenifer, supported him by investing in the necessary equipment to create locally-made freeze-dried candies, and Countryside Freeze-Dried was born. The company is a family affair, with McGovern's parents assisting him in the process of creating and packaging the candy for sale at local farmers' markets and now Hartig Drug locations in Dubuque (JFK and University) and Dyersville.
Hartig Drug's partnership with Countryside Freeze-Dried exemplifies its commitment to supporting local businesses and communities. McGovern's focus on quality goods at a fair price has earned the company a loyal customer base and attention from Hartig Drug, which was proud to be the first retail company to carry the brand.
Countryside Freeze-Dried offers an array of freeze-dried candies, fruits, and vegetables, as well as organic freeze-dried pet treats sourced locally from O'Connell's Organic Farms in Bankston, Iowa. The candy line, McGovern's side of the business, features a variety of unique flavors for purchase at Hartig Drug. McGovern is planning a special St. Patrick's Day candy, to which he plans to donate 10% of the proceeds to local charities.
The freeze-dried candy process starts with first disinfecting all the work areas. Then they cut parchment paper for each tray for each batch. Then they typically have to unwrap the candies and sometimes cut them in half. Each candy has its unique requirements for freeze-drying. Some can be freeze-dried in as little as two to three hours; others will take 6 to 8 hours. McGovern said that others have to be preheated, which can be tricky "because if you overheat them, they will explode and create a massive mess in the freeze dryer, " said McGovern. By properly heating them, they will fully freeze dry and produce the light, airy crunch that makes freeze-dried candy so good. After the candies complete their freeze-drying process, they are packaged, heat-sealed, and labeled.
As Countryside Freeze-Dried's success continues, McGovern hopes to expand the company's retail footprint and build a commercial kitchen. He believes experimentation and focus are crucial to success in the business world and advises other young entrepreneurs: "You don't have to start big; start small."
As a freshman in high school at Western Dubuque, McGovern said he follows a strict schedule to find the time to manage school and his business. "Some nights, I am up later studying, but my grades have been solid so far. My family also helps when I am traveling for show choir or camping with Scouts."
McGovern has learned many lessons since venturing into the freeze-dried candy business. "We had a lot of failures, and it took us several months to reach a point where it is now consistent with each batch." His dad, a business professor, continues to teach him that strategy is about focus. Focusing on what you want your business to be just as much as what you do not want your business to be.
Countryside Freeze-Dried's sweet success story inspires all aspiring entrepreneurs, showcasing the power of passion, determination, and hard work. Hartig Drug is proud to support local businesses like Countryside Freeze-Dried and encourages others to do the same.