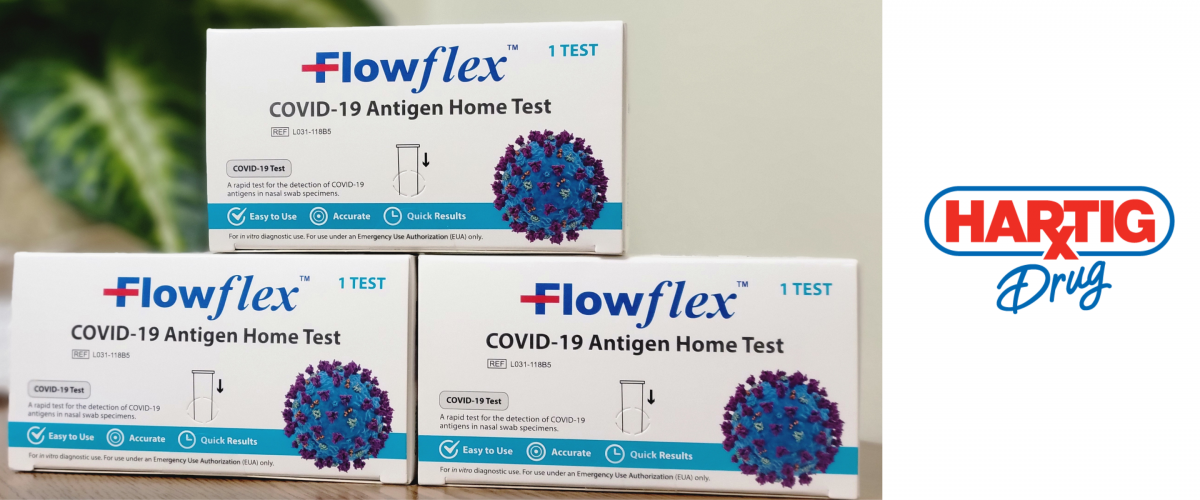 DUBUQUE, Iowa – As the current impact of Covid-19 rises in the tri-state area, Hartig Drug Company is offering free at-home Covid-19 tests.
Individuals with prescription insurance or Medicare coverage can order at-home tests online at hartigdrug.com/covid. Customers may select in-store pickup or delivery and can order 8 tests per person per month. Each individual must fill out a separate online order form, even if part of the same household, including children.
All Hartig Drug locations also offer free PCR self-collection test kits. Free PCR test kits are available for pickup in-store only, and a voucher is required. Visit iNeedaCovid19test.com for a voucher. Following your sample collection, test kits may be dropped off at any Hartig Drug.
In addition to testing, Hartig Drug remains steadfast in its Covid-19 prevention efforts through Covid-19 vaccinations. If you haven't been vaccinated or still need your booster, you may schedule an appointment online at www.hartigdrug.com/appointment.
"Our employees have been a critical source for free testing since Summer 2020. We're proud to continue offering these free services and ongoing vaccine efforts to ensure our communities have every opportunity to seek diagnosis, vaccination, and treatment for Covid-19," said Charlie Hartig, CEO of Hartig Drug Company.
For more information on Hartig Drug Covid-19 tests, vaccines, and updates, visit hartigdrug.com/covid. Vaccine eligibility and additional information regarding Covid-19 may be found on the Centers for Disease Control and Prevention website at www.cdc.gov.
###
About Hartig Drug Company
Hartig Drug Company (Hartig Drug) is a local, family-owned, and operated group of pharmacies located in the Iowa, Wisconsin, and Illinois tri-state region. Hartig Drug was founded over 115 years ago by A. J. Hartig.
Through community pharmacy, senior care (LTC) pharmacy, hospital pharmacy, and durable medical equipment locations, Hartig Drug Company is committed to providing convenient, personalized health consulting, pharmaceutical products, and consumer goods. As a local, small business Hartig Drug offers personalized services in touch with its local community roots. Our employees live, work, and play in the same communities in which we operate. The connection to the community drives us every day to provide the best possible service and products to our customers.