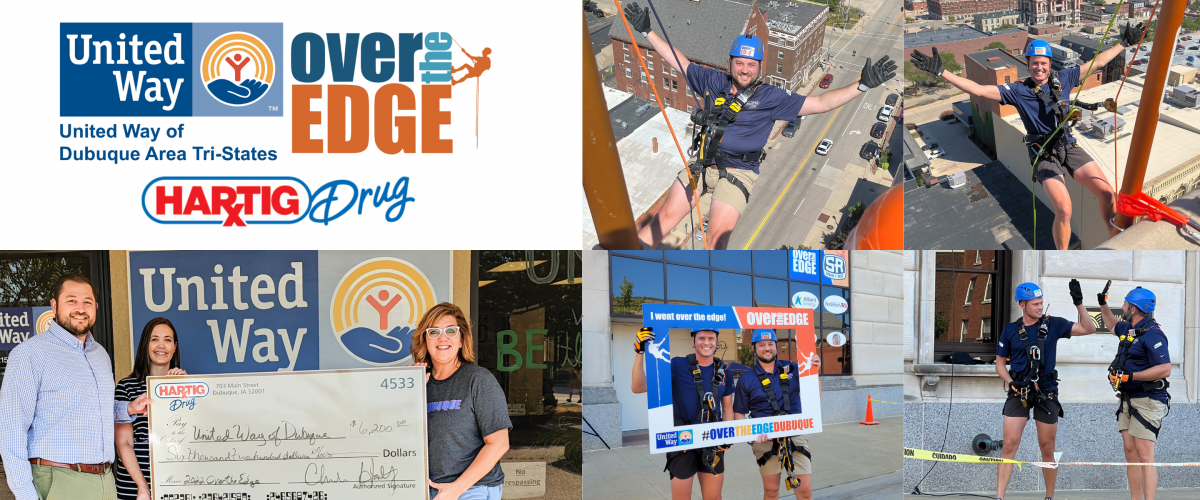 Thursday, September 8, 2022
Hartig Drug Company Donates Over $6,000 to United Way for Over the Edge!
DUBUQUE, Iowa –Hartig Drug Company CEO Charlie Hartig and MedOne Pharmacy Benefit Solutions CEO Wes Hartig are going Over the Edge for United Way of Dubuque Area Tri-States on Friday, September 9, 2022, at 2 p.m.
Following a successful campaign, Hartig Drug collected and donated over $6,000.00 to United Way, securing two "Edger" spots at the Over the Edge event. Together, the Hartig brothers will rappel down the side of the MidWestOne Bank building located at 895 Main St, Dubuque, IA 52001.
"Our local family business was excited to participate with the community in this fun event. We're proud to serve and continue to support the tristate community and a number of local nonprofit organizations in the communities we serve. I am looking forward to going "over the edge" – albeit a bit nervous," said C. Hartig.
United Way of Dubuque Area Tri-States hosts Over the Edge annually with a goal this year of raising $90,000 for their Community Impact Fund. The Community Impact Fund helps support poverty-related efforts in the tri-state area, a cause closely aligned with Hartig Drug Company's values and mission.
"Our family business is very much aligned with the United Way in our quest to make a significant impact in the communities we serve. We are excited to participate in Over the Edge this year to make an even bigger impact together while having some fun," said W. Harti
The event can be viewed on Hartig Drug's Facebook Page at www.facebook.com/HartigDrug or online at dbqunitedway.org.
###
About Hartig Drug Company
Hartig Drug Company (Hartig Drug) is a local, family-owned, and operated group of pharmacies located in the Iowa, Wisconsin, and Illinois tri-state region. Hartig Drug was founded over 115 years ago by A. J. Hartig.
Through community pharmacy, senior care (LTC) pharmacy, hospital pharmacy, and durable medical equipment locations, Hartig Drug Company is committed to providing convenient, personalized health consulting, pharmaceutical products, and consumer goods. As a local, small business Hartig Drug offers personalized services in touch with its local community roots. Our employees live, work, and play in the same communities in which we operate. The connection to the community drives us every day to provide the best possible service and products to our customers.
About MedOne Pharmacy Benefit Solutions
MedOne helps organizations and their health plan members conveniently access the most appropriate prescription at the most affordable price through its aligned and performance-based pharmacy benefit solution. MedOne's offerings focus on enhancing the member's pharmacy benefit experience, improving clinical outcomes, and reducing net costs for plan sponsors and their members. MedOne operates in all 50 states, and its customer base includes organizations of all sizes and across a variety of industries. MedOne is honored to be included in the 2022 Inc. Magazine's 5000 fastest-growing private companies in America. For more information, visit www.medone-rx.com.