October 13, 2022
Hartig Drug Company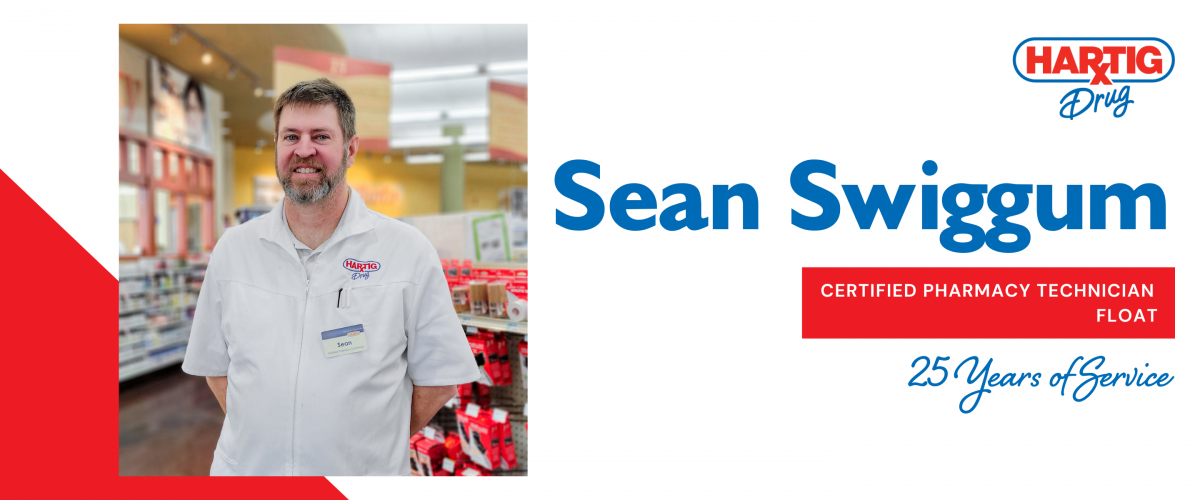 Hartig Drug Company customers are at the core of everything we do, and our employees are how we do it. Hartig Drug employees are the heart that keeps Hartig beating, and we thank all of our employees for their dedication to Hartig Drug and our customers. Today, we introduce Sean Swiggum, one of the many Hearts of Hartig.
Sean Swiggum is a Certified Pharmacy Technician at Hartig Drug Company. His journey began 25 years ago, in March 1996, as a pharmaceutical buyer at the corporate offices. Sean puts his heart and soul into all he does - with a smile on his face and a good story to go with it!
"Dick Hartig, the Hartig family, and the Hartig Drug business model where everyone here, including customers, are family is what has kept me around for so long," stated Sean.
As a float pharmacy technician, Sean does not have the typical "home store." He moves from location-to-location helping where he is needed most. Sean loves being a float technician because he meets everyone – from other Hartig Drug employees to all the customers he encounters at the multiple stores he travels to.
"My favorite part about working for Hartig Drug is meeting our customers and helping them with whatever they may need," Sean said.
Originally from Platteville, Wisconsin, Sean and his wife, Patti, reside in Dubuque with their two Shiba Inus, Meika and Rea. They have two children, Tristan and Cassidy. Tristan lives in Des Moines and works as an auditor for the State of Iowa. Cassidy lives in Erie, Colorado, and she teaches kindergarten. Sean beams with joy when talking about his kids.
Sean enjoys being outside and just relaxing. You can find him hunting and fishing any chance he gets. Sean is also a Green Bay Packers fan and a self-described board game fanatic. His favorite board games are Space Base and Twilight Imperium. Sean and his friends meet weekly to try new board games, many of which are from Kickstarter.
"I want to thank Hartig Drug Company for the opportunity to help my community. – Sean Swiggum
Hartig Drug is lucky to have a long-standing, fantastic team member like Sean, and we are forever grateful for his service to our patients and customers!
Hartig Drug is hiring! See current job openings at www.hartigdrug.com/careers.