June 27, 2022
Hartig Drug Company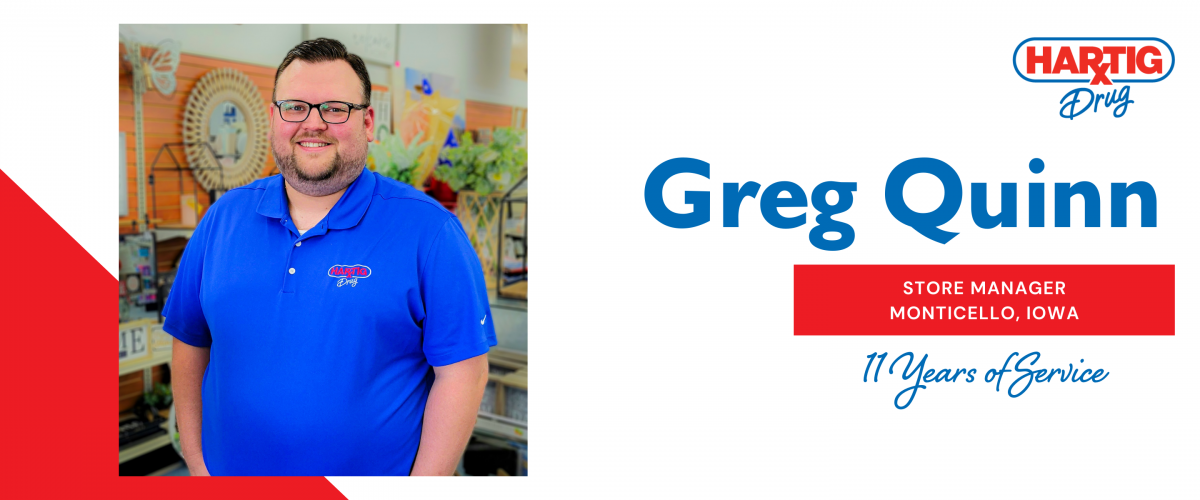 Hartig Drug Company customers are at the core of everything we do, and our employees are how we do it. Hartig Drug employees are the heart that keeps Hartig beating, and we thank all of our employees for their dedication to Hartig Drug and our customers. Today, we introduce Greg Quinn, one of the many Hearts of Hartig.
Greg Quinn has been employed at Hartig Drug for over 11 years. He has worked in a number of Hartig Drug locations but found his "forever home" at the Hartig Drug in Monticello as the Store Manager.
Greg is a true tri-state area resident, having grown up in the East Dubuque, IL, and Hazel Green, WI, areas. He is a graduate of Southwestern High School.
A man of many talents, Greg is the first to lend a helping hand. Greg's incredible Monticello team allows him to help other stores throughout the company when they may need hours covered. He was also part of the Hartig Drug Recovery team, and helped his colleagues in Waukon clean up from flood damage and helped more colleagues in Prophetstown, IL, clean up from smoke/fire damage. He also volunteers and is a member of many Monticello organizations, including the Monticello Iowa Rotary Club and Monticello Area Chamber of Commerce. He volunteers as a coach for the Monticello Parks & Recreation Department.
Greg's favorite part about Hartig Drug is, "Knowing that after all these years of being in business, Hartig is still family-owned. I love the fact that we typically know everyone in the company. It's also great to have ownership that knows you by name and are always glad to see you. They take great pride in knowing everyone in the company and allowing themselves to be approachable. Working for Hartig Drug is not just a job or career; it's about being part of a family. We all know what needs to be done, and we all chip in to succeed as a whole group, not just an individual. when someone asks for help, there are others throughout the company willing to help."
When Greg isn't busy working or volunteering, you can find him spending time with his wife, Ashley, their two kids, Morgan and Maddux, and their dogs, Ditka, Scout, and Whiskey. Whether he is cracking jokes or playing games, Greg enjoys interacting with all types of people and helping create memories. He loves to make people laugh and smile. His love of people and fun led him to start his own business, GQ Entertainment LLC, in March 2020. Greg's business hosts trivia and game shows, and you can see him throughout the tri-state area.
Greg said, "I want to thank Hartig Drug Company for providing everyone with opportunities to be more than just employees. We are family."
Thank you, Greg, for your work and every extra ounce of work you do for this company and the Monticello community. Words cannot express how grateful we are to have you as a valued member of the Hartig Drug team!
Looking for a new career? Hartig Drug is hiring! See job openings at www.hartigdrug.com/careers.