February 14, 2023
Hartig Drug Company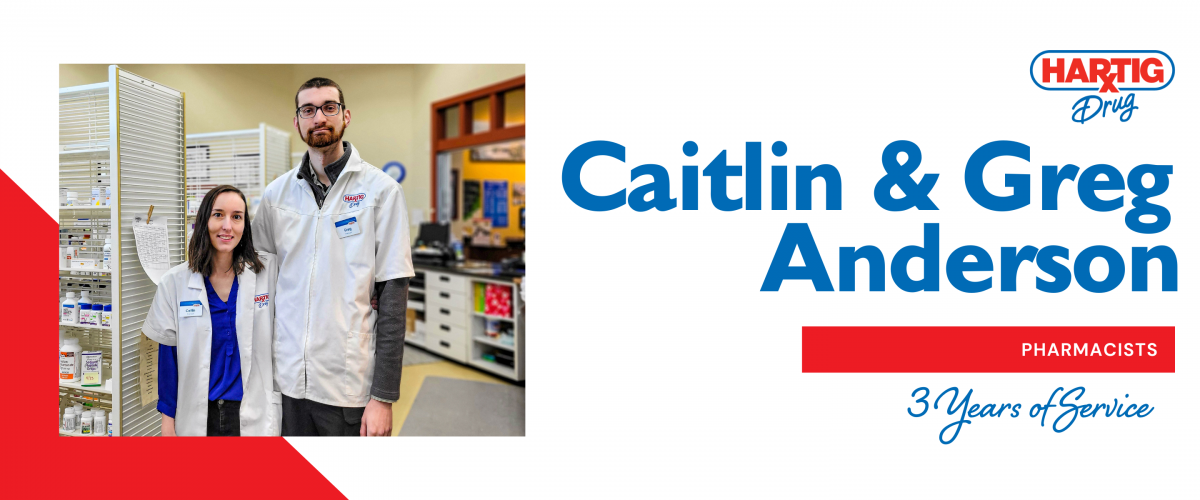 Hartig Drug Company customers are at the core of everything we do, and our employees are how we do it. Hartig Drug employees are the heart that keeps Hartig beating, and we thank all of our employees for their dedication to Hartig Drug and our customers. Today, in a special Valentine's Day edition, we introduce Caitlin and Greg Anderson, two of the many Hearts of Hartig.
Caitlin Anderson, PharmD, and Greg Anderson, PharmD, are two Hartig Drug pharmacists who just happen to be husband and wife. Caitlin and Greg attended St. Louis College of Pharmacy. The two 2017 graduates found more than just a meaningful career while they attended pharmacy school; they found each other. "We're a cliche and met in pharmacy school. We lived on the same dorm floor. Greg says we first met when he sneezed on me in the elevator. I (fortunately?) don't remember that. I just remember us getting into an argument over freshman ice-breaker games that we were being way too intense about," Caitlin said.
The couple was married in April 2017 and have been employed at Hartig Drug Company since 2019.
Caitlin was always interested in the medical field. She was drawn to pharmacy because it had the potential for a positive work/life balance while still proving a challenging and rewarding career. Caitlin said, "medications are a huge aspect of healthcare as a whole; why not specialize in the field that's the go-to treatment for ailments?"
Greg's interest was botany and, more specifically, medicinal plants. He said, "I took a health-career focused vocational class in high school where we had a guest speaker every two weeks. I was impressed with the pharmacist speaker. It made sense to me at the time to pursue a pharmacy degree versus laboratory work or being a field biologist."
Caitlin, originally from Palmyra, Missouri, near Hannibal, and Greg, originally from Edwardsville, Illinois, now reside in La Motte, Iowa. Caitlin calls the Dubuque University Avenue Hartig Drug home, and Greg works at the Central Avenue Hartig Drug and the Dubuque corporate offices. The couple has an 11-month-old son, two Cardigan Welsh Corgis, Otto, and Opal, and give cats, Gus, Siegfried, Paco, Frankie, and Merlin.
The couple enjoys traveling, hiking, camping, and playing video games in their spare time. Caitlin likes to read and cycle, and Greg likes to read and garden; he also dabbles in amateur radio. Greg said most people would be surprised to know that "Caitlin was on a trap-shooting team in high school." Caitlin said one fun fact about Greg that most people don't know is he "likes to make Perler bead crafts."
The couple explained that working for the same company has excellent benefits; whether helping each other cover shifts or lending a professional ear, they know exactly what the other is regularly facing. They also said being in the same profession provides an understanding of "gripes, rants, and personal victories at the end of the day. It's also nice, in a profession where personal judgment plays a huge role, to be able to ask someone you trust what their take on the situation is."
Caitlin and Greg stated the best advice they would give to couples working in the same profession is, "Know when to stop talking about work."
Working for Hartig Drug has been a highlight in the couple's life. "They treat their employees way better than a big pharmacy chain. There's something very satisfying about knowing your bosses are pharmacists too, know the field, and might even be your backup help for the day if needed," Caitlin explained.
Greg said, "I always wanted to work for a small chain store. I'm glad to have found a company where individuals are still respected, and we have the discretion to go the extra mile to help people out instead of being bound to faceless corporate entities and metrics."
Caitlin and Greg thank Hartig Drug Company for "providing a supportive work environment and allowing us to help our community."
Hartig Drug is beyond grateful for the expertise, compassion, and community-focused care that Caitlin and Greg provide our patients, and we are so happy they both found a second home with Hartig Drug.
Hartig Drug is hiring! See current job openings at www.hartigdrug.com/careers.